Industrial Epoxy Floor Painting Contractors serving Toronto, Gta and Southern Ontario since 1984.
If above video is not working use this link http://youtu.be/LeXL9377tYE
Industrial and Commercial Painting Contractors
Dyna Tech Painting are industrial painting contractors serving Toronto, Gta and Southern Ontario since 1984,
as an industrial painting contractor we have done many painting projects from large to small, such as metal deck ceilings, industrial silos, tank linings, industrial epoxy floor coatings, parking lot line striping, decorating offices, epoxy flooring for your business, industry, warehouse, factory or (food & drug) pharmaceutical laboratories. We are the exterior and interior building painting and maintenance experts since 1984 serving Toronto, Gta and Southern Ontario.

If you have any questions about our Industrial Painting Services such as:
-What are epoxy floors?
-Industrial Tank and Silo Painting.
-Commercial Painting.
-Power Washing.
-Factory Cleaning.
-Metal Roof Coatings.
-Epoxy and Urethane Floor Coatings.
-Sand Blasting.
-Interior and Exterior Building Painting.
-Industrial Painting.
-Steel Decking Painting.
-Traffic and Parking Lot Painting.
For your total industrial and commercial painting needs
Give us a call no job to big or small 24 hrs services 7 days a week.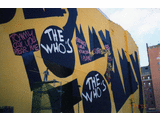 Painting of Factories, Warehouses, steel decking, epoxy floor coatings, silos and tanks, offices and much more.
Some of the clients that have used our industrial and commercial painting services are: Coca Cola, Labatt's, Sleeman's Breweries, Pepsi, Parmalat food industry, Porter Airlines, Neilson's Dairies, Primo Foods, Arla Foods, Food Industry, Ontario Board of Education, Maple Leaf Gardens, Provincial Government, Sheraton Hotels, Canadian Broadcasting Company... and much more
Industrial and Commercial Painters and Painting Contractors
Serving Toronto, Gta and Southern Ontario.
Copyright©DynaTech Painting 2005.